Inviting users to the schedule
From the invitation wizard or from the rights management window, you can now easily invite users to the schedule.
Inviting from the invitation wizard
When initially setting the schedule, the setup wizard allows you to create and invite new users. You can also access this screen by clicking on the sharing icon in the top right-hand corner of your schedule.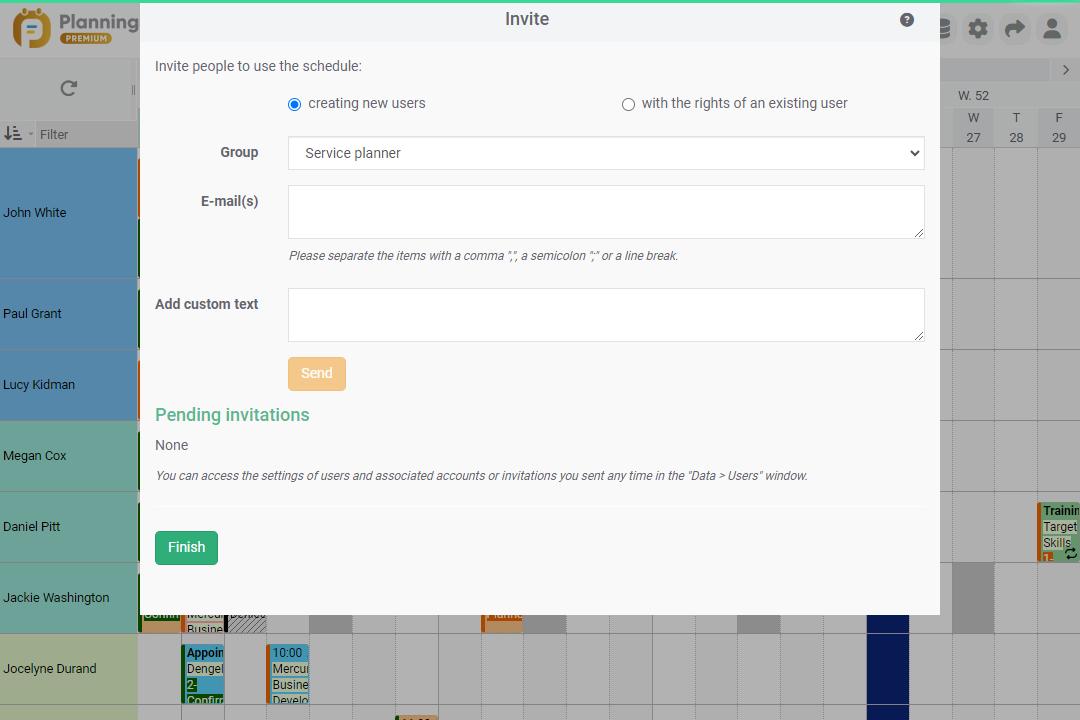 Invite people to use the schedule: 2 choices
- with the rights of an existing user
- creating new users

Group / user
Group: Three user groups are set up as default: Admin, Manager and Reader.
user: select an existing user
Email(s)
Enter one or more email address(es). Please separate the items with a comma ",", a semicolon ";" or a line break.
Admin : Users in this group have access to schedule settings, general options and access management.
Manager : Users in this group can create/edit/delete events and data.
Read only : Users in this group have restricted read-only access to the schedule view.
Add custom text
You can add custom text to the invitation email before sending it to users.
"Invite" button and sending the invitation email
By clicking on this button, an email will be sent to the users you want to invite on the schedule. The user will only have to click on the link in the email received and follow the instructions to create his account and have access to the schedule.
Pending invitations
Pending invitations are located here. As soon as a user joins the schedule, his name disappears from the list.
"Finish" button
Click on "Finish" to close the window.
Inviting from the user rights management window
From the Tools -> Users menu, you can manage all your users and also send invitations.
See the chapter on: « User access management »