Advantages
A universal multi-station access - Subscription version
Before we started using the PlanningPME software, we were managing our scheduling using Excel and it was very difficult to see the whole week, month or year for each of our employees or for all our employees simultaneously. Since we have been managing the employees' schedules with PlanningPME, we have saved a lot of time.

LudiQ'Land
Patricia P., Deputy Site Manager
How can I access my online schedule?
Are you looking for an easy to use planning solution that you can share with your colleagues in real time? Discover how to create your planning quickly to optimize team work and increase your daily efficiency.
You just need to have an Internet connection and an interface that allows Web Pages (Smartphone, PC, Mac, Pocket PC…)
PlanningPME Web Access allows you to manage the schedule of your resources via a navigator as Internet Explorer with a login and a password that will give you access to a single database for a single servor.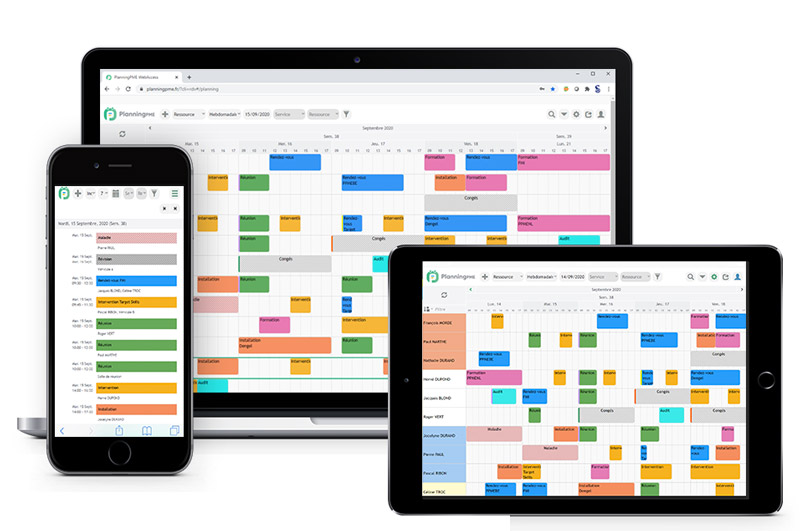 Premium Version
Automatic notifications
Thanks to e-mail and SMS notifications, you are informed of changes made to the schedule: a new meeting? A delayed action? An accepted leave request? Simplify everyone's daily routine and automatically notify the desired people!
The Premium version allows you to configure the sending of automatic notifications to users, employees, and/or customers, according to the filters and defined actions. A range of possibilities for such an effective result!
Tutorial - Automatic notifications
PlanningPME Rescue
With PlanningPME Rescue, you are assured to access your schedule in any circumstances. Whether it be a major breakdown, a fire, or any other kind of critical event, PlanningPME Rescue takes over until the situation gets back to normal.
PlanningPME Rescue is included in the Premium version of PlanningPME Web Access.
How to you use SSO login and OpenID Connect?
Do you have a Microsoft or Google account? By opting for the Premium version, automatically log in to the schedule without having to create an additional password!
What is a single sign-on system (SSO)?
SSO is a unique identification system that works with your own corporate identity provider and allows you to access third-party applications without having to authenticate each time. the PlanningPME Web Access system is compatible with the SSO system, thereby allowing to directly log in to your schedule.
What is OpenID Connect (OIDC)?
OIDC is an open SSO standard used by many companies to authenticate users. The users only have to log in with the identity provider (example: Azure Ad, Google Workspace,etc.) in order to access other sites or applications without having to log in (again) or share their login information. OIDC is based on the OAuth2 protocol. To address this need for single sign-on, PlanningPME Web Access uses the OpenID Connect open standard.
SSO is included in the Premium version of PlanningPME Web Access.
Do I need to install PlanningPME Web Access?
Two installation options are available:
- Subscription version: No, no installation is required because we host your database on our servers.
- Purchase version: Yes, this installation requires the support of one of our technicians on your site.
Why do I need to subscribe?
Because we supply all the infrastructure needed to host your schedule (Powerful and secured servers, technical support: all is included!)
Why is the schedule located on external servers?
Our last generation servers assure a good data traffic via an Internet connection. Moreover, your schedule is protected against any violation and it is saved daily.

Nevertheless, it is possible to have your schedule hosted on your server in the purchase version.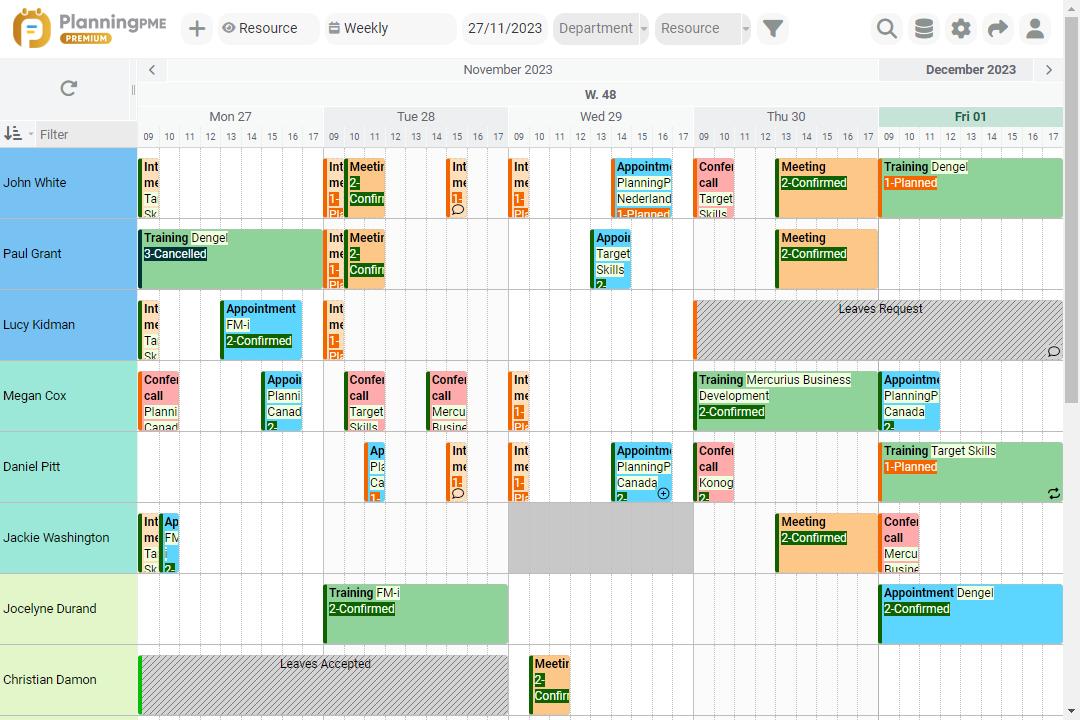 How are prices established?
Prices are elaborated in function of the number of human and material resources managed on the planning board. The first subscription lasts minimum 12 months
What happens if the number of resources increases or decreases?
Nothing, as long as your resources do not exceed the maximum of resources subscribed.
If not, the price of the subscription will be adjusted to the correct price range and you will be invoiced.
How do we protect your data in the schedule?
In the world of cybersecurity, OWASP is a global non-profit organisation working on web application security, its philosophy is to remain open source and accessible to all. The OWASP Top 10 project aims to provide a list of the ten most critical security risks affecting web applications.
Penetration tests are regularly performed by a cybersecurity leader on our PlanningPME web application according to a method described in the "OWASP Testing Guide". We then know the emerging threats and anticipate their evolution and secure our systems from the threat of critical flaws by finding solutions. Thus the security of your data is guaranteed against the 10 biggest security flaws, PlannningPME Web Access is OWASP Top 10 certified.