Tasks management software
Organize your tasks and daily activities with an easy-to-use planning tool and share information with your resources.
The building trade department (metalworking, woodworking, painting and glazing, masonry, electricity, plumbing, roofing) uses PlanningPME to schedule tasks and unavailability for all contractors in the town of Versailles. For budget preparation, the Excel pivot tables have been a great help to us for graphical representation of all the quarterly or annual activities. The simplicity of use is of considerable help to our supervisors in team management. We are now able to track 3,500 - 4,000 work requests per year. The visibility of over 70 agents is just one click away, as is the work schedule for each workshop. Mairie de Versailles - Janick, Service Manager

Town of Versailles
Janick G., Service Manager
See all the customers case studies
Optimize your planning management and improve productivity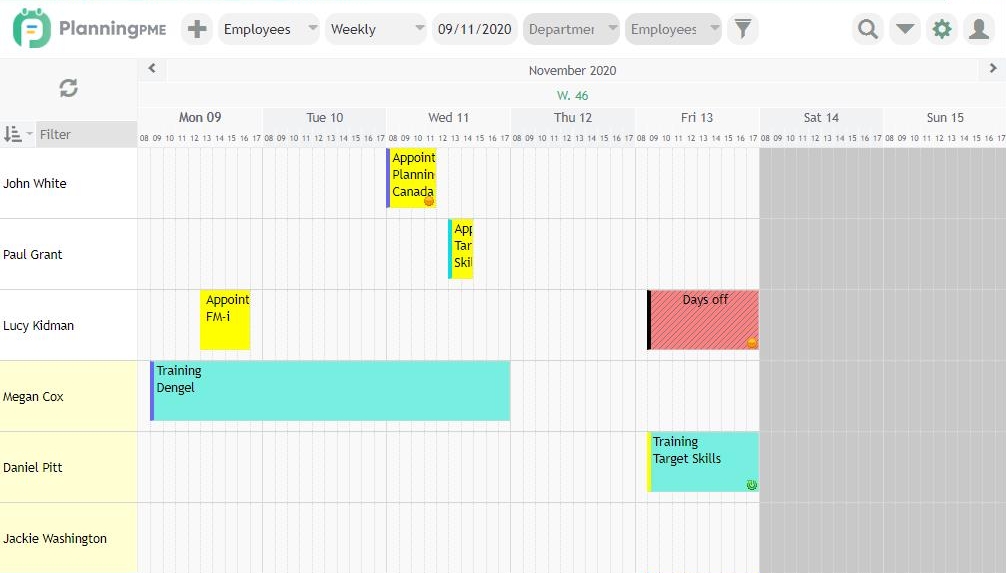 Manage your tasks and vacations easily via a single interface. Share your planning with your colleagues and improve collaborative work. You can schedule any kind of tasks such as appointments and meetings and/or only leaves and vacations and you can include informations such as the status, beginning and end time, single or multi-resources assignments, recurrency, notifications.
Enjoy the benefits of our scheduling solutions for tasks management
Recurrent bookings
Schedule customization
Vacations and days off
Tasks management made easy
Task Planning allows a company to manage its activity better and to know who does what at anytime in the company.
PlanningPME is therefore a must-have ally for the task planning, and helps you saving time and money.
"Thanks to real-time collaboration your team is informed about changes on the planning dynamically. You can also activate alarms to be reminded of approaching of planned task by pop-up messages. Sharing up-to-dates schedules, task information, progress of your jobs improves your productivity. With PlanningPME, task scheduling is just facilitated thanks to a visual and graphical schedule."