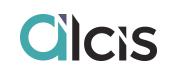 Company Overview
Alcis is a dynamic and creative SME specializing in the design, manufacture and licensing of innovative medical devices in a variety of fields such as neurosurgery, endovascular surgery and electrophysiology.
Alcis also provides subcontracting services in the clean room and quality and regulatory advice for the implementation of ISO 13485 quality systems and CE markings of medical devices of all classes.
Country:

France

Website:

Activity:

Medical device

Schedule uses:

Employees management
Our scheduling needs
The need to plan and have a global vision of the organization of the company were expressed through a causal analysis.
The goal was to find a tool for Alcis to manage its activities and to spread the workload among employees so that all activities could be completed.
Optimize internal processes
PlanningPME allows Alcis to plan its activities according to different processes. It allows us during recurring meetings to report on the progress of different projects as well as the workload of each employee. PlanningPME software has been selected from a list of planning software.
This software meets the different needs expressed by process managers such as priorities, filters by people / service / activities as well as the workload of staff . In addition, the customer service of the company who developed this software is available quickly and meets the needs in a short time. The choice was also driven by the ergonomics of the software. The latter allows a quick start strong> as well as a facilitated reading.