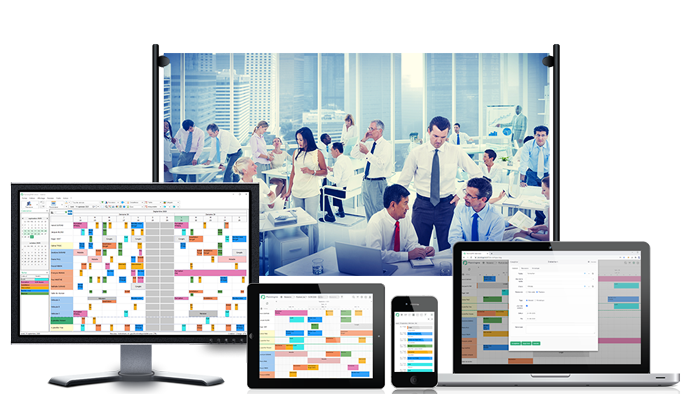 Employee scheduling software
Save time with an easy-to-use and graphical employee scheduling software
Planning accessible to all of your employees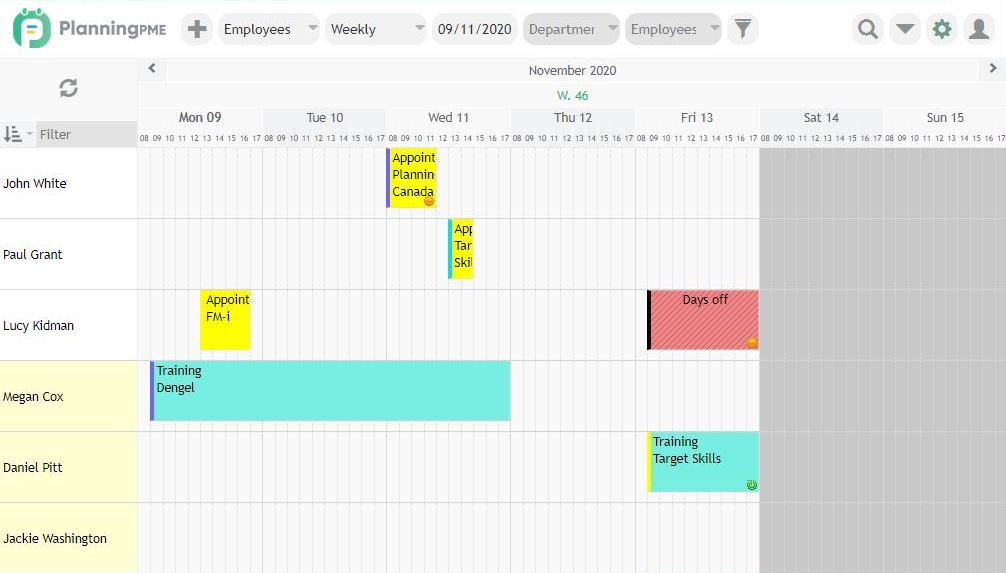 PlanningPME employee scheduling software manages appointments, meetings, leaves and vacations of your staff on one single visual planning. Find easily available resources for specific tasks. Networkable, it is a powerful scheduling tool that can be adapted to your business needs easily thanks to many features.
Discover the advantages of the employee scheduling management
Easy-to-use
Day-to-day planning views
Alerts and notifications
Departments management
Workload
Managing your employees with our planning tools
These days, employee scheduling appears to be one of the major issues to deal with for business to be successful and optimize their time management. Schedule the right resource at the right time taking into consideration the global workload of each department. Using our efficient graphical and networkable scheduler PlanningPME can save you precious time and money.
At a glance, check where your employees are, what they are doing and when.
"Avoid schedule conflicts being warned when a resource is already booked. Send them e-mails and notifications to get your staff informed of last minute planning changes. Moreover, as our planning tools are really flexible, they can be adapted to any type of business thanks to appropriate color-coding, customized additional fields, import/export features. Customers using PlanningPME tools are from various business activities: Administration, Industry, Energy & buildings, Services."
We are satisfied with this software: it is simple to use, and has generally met our needs (managing work stations in the library), it provides a daily overview of all staff calendars, it allows simple modifications of the work station schedules. It provides the benefit of allowing the creation of HTML pages visible on the library's site, and thus the staff know at any time where they should be and who will replace them at the work station.

LIBRARY, AVIGNON SCD UNIVERSITE
Isabelle D.
The building trade department (metalworking, woodworking, painting and glazing, masonry, electricity, plumbing, roofing) uses PlanningPME to schedule tasks and unavailability for all contractors in the town of Versailles. For budget preparation, the Excel pivot tables have been a great help to us for graphical representation of all the quarterly or annual activities. The simplicity of use is of considerable help to our supervisors in team management. We are now able to track 3,500 - 4,000 work requests per year. The visibility of over 70 agents is just one click away, as is the work schedule for each workshop. Mairie de Versailles - Janick, Service Manager

Town of Versailles
Janick G., Service Manager
Communauté d'Agglomération d'Evry Centre Essonne

Here is how the Communauté d'Agglomération Evry Centre Essonne optimizes the planning of its staff
GF Machining Solution

For GF Machining Solutions, tracking and sharing staff schedules is essential
Lambert Tranports

Lambert Transports manages the planning of drivers and the allocation of vehicles
Unista

Unista uses PlanningPME to manage the planning of its resources in the robotics industry