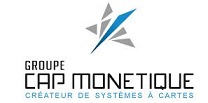 Company Overview
Creator of monetic solutions and expert in card technologies (contact and contactless chip, magnetic stripe and bar code), CAP MONETIQUE has developed solutions adapted to the needs of users thanks to its three core businesses: software publishing , electronics and service.
Already a leader in the field of card payments strong> in the university environment, the CAP MONETIQUE Group, through its subsidiaries, is now present in all sectors where the Monetics has imposed itself. CAP MONETIQUE provides solutions for communities, libraries, higher education institutions (universities, colleges, etc.), hospitals, recreation centers, car wash centers, laundromats, etc.
Country:

France

Website:

Activity:

Provider of card systems dedicated to identification and payment

Schedule uses:

management of interventions and installations, appointments, schedule planning, training schedule, leave
Our scheduling needs
Our technical services are shared through our 5 subsidiaries. The diversified activity of technicians (workshop, roaming, hotline) must be organized according to needs, availability and emergencies.
Each subsidiary has its constraints and it is always necessary coordinating teams in order to be effective and optimize the time allotted.
Today, we gain global visibility by resources, projects, and structure to effectively organize teams.
Daily planning of trips and appointments
The schedule is administered by the service representative, but also by the hotliners. We work by resources assigning tasks by customer.
The schedule is used daily and, modified regularly to have a daily visibility of the displacements but also the schedules and anticipations of the installations.
Leave management makes it possible to manage teams and juggle absences. At each appointment, an automatic synchronization is performed in the schedules of the technicians.