Why using Power BI?
Create visual reports and dashboards adapted to your business activity that enable you to make decisions with good insights and conduct your business with fluidity.
You can synchronize all your data with Power BI, the powerful business intelligence reporting service from Microsoft. It combines the power of analytics with a user-friendly interface and incredible data visualization.
Advantages
Thanks to the many features of PowerBI, you can among others:
Transform planning data into amazing visuals
Share visual information with your colleagues or customers via a simple web link accessible at any time from anywhere
Take decisions rapidly with powerful KPIs updated in real time
Collaborate and share customized dashboards and interactive reports
Get customized, analytical reports on all types of platforms
How to connect planning data?
Via PlanningPME API connector
Power BI connects to PlanningPME via a PlanningPME API connector . All information about resources, customers, events, and projects can be analyzed and used to create relevant reports.
You can contact us to discuss your requirements.
PowerBI Mobile
View Power BI reports and dashboards in real time on Windows, iOS, and Android mobile devices.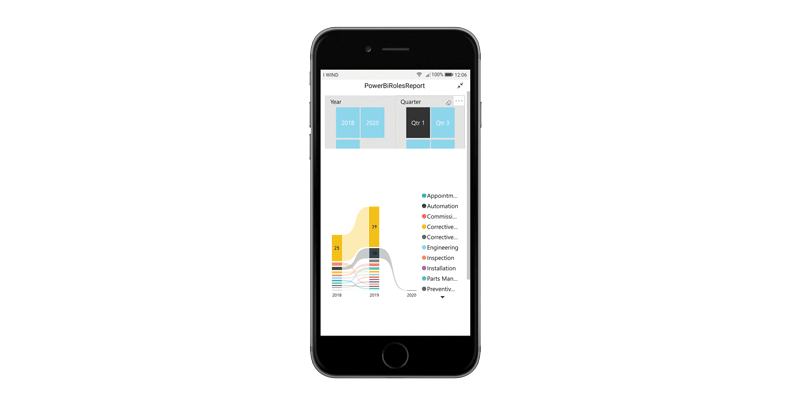 Integration on a website
Share reports directly on your website with embedded integration options.
Play with this Live Report example.
Examples of dashboards and insights
Here are some examples of reports below: a live report, reports by type of position in the company. This list is not exhaustive. You can contact us to discuss your requirements.
Live Report Example
Here is an example of a "Live" report extracted from template created with the application PlanningPME Web Access. You can filter, switch from one report to another directly by playing on the sample report below.
Description of this report
Get working time by resource, by client, project using dedicated graphical formats and dedicated calculations from the database
Graphical analysis
Easy indicators and dashboards via smartphone for service managers
Easy reports for Administration which are not using PlanningPME
For Service Planners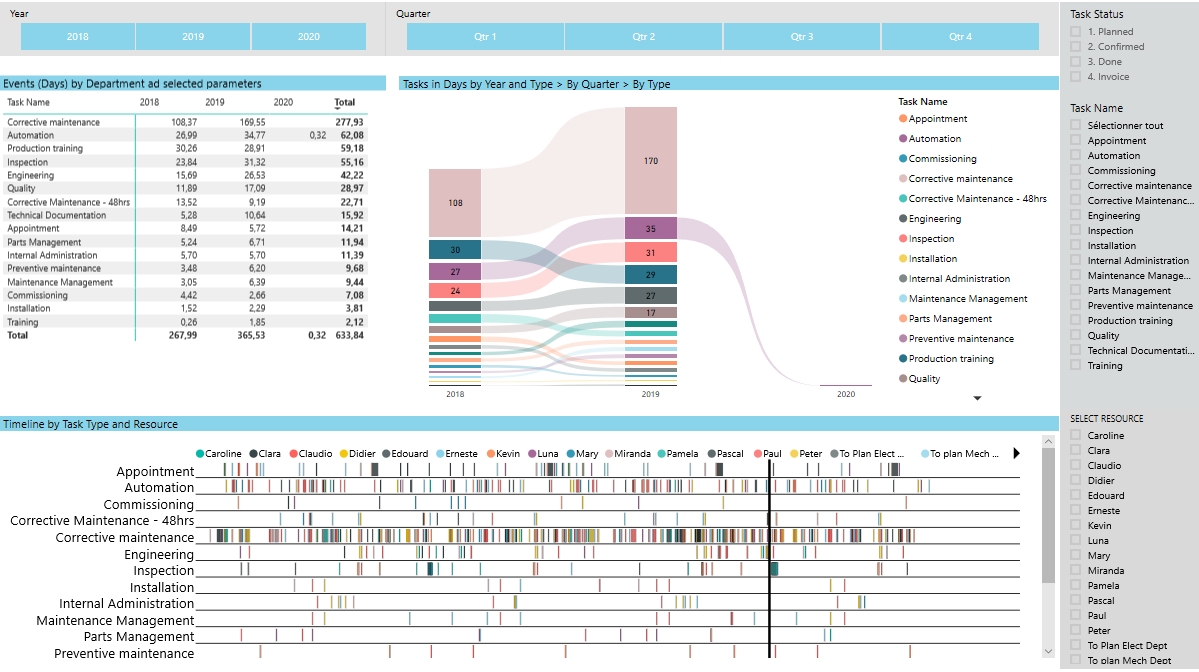 Interest: Know in real time the number of resources working as well as ongoing activities. For example, check rapidly on a graph the number and types of tasks performed over a month.
Workloads by Resource by period (Y/Q/M)
All Tasks TBL and Graph
Take decision rapidly with powerful KPI updated in real time
For Administration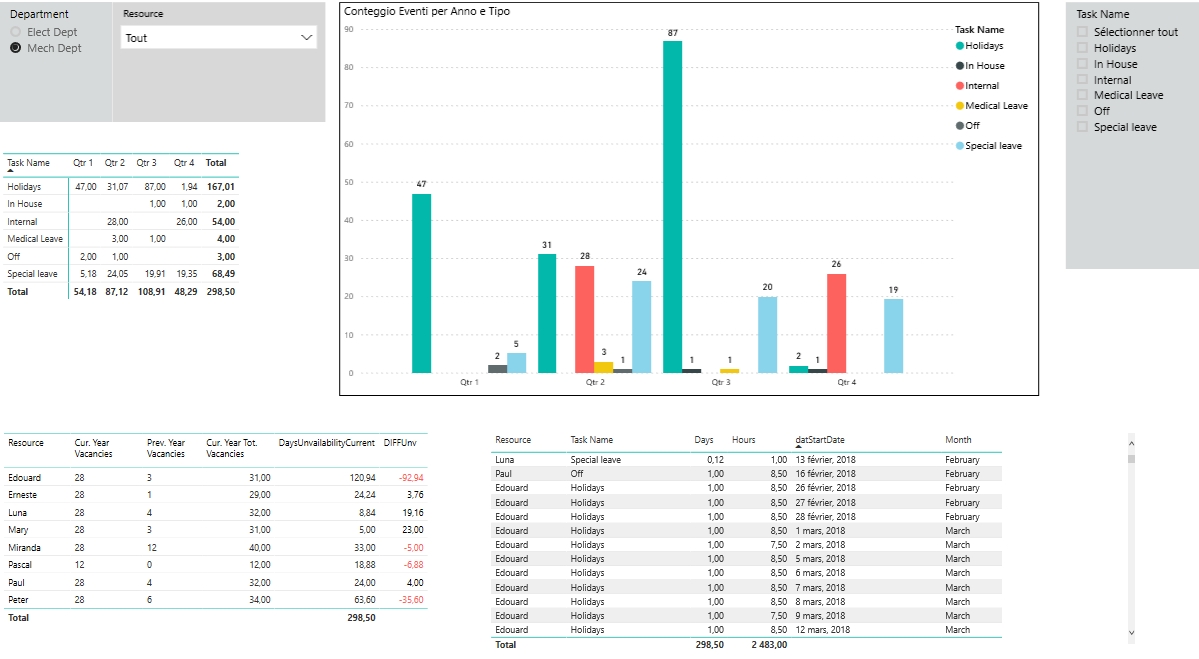 Interest: Check at a glance people on leave over a day or a month
Unavailabilities with Graph by type by period
Matrix by Resource by Year by Month by Unvailability type SUM Days
Calculations on available capacity
Select by Department and by Resource or all
For Managers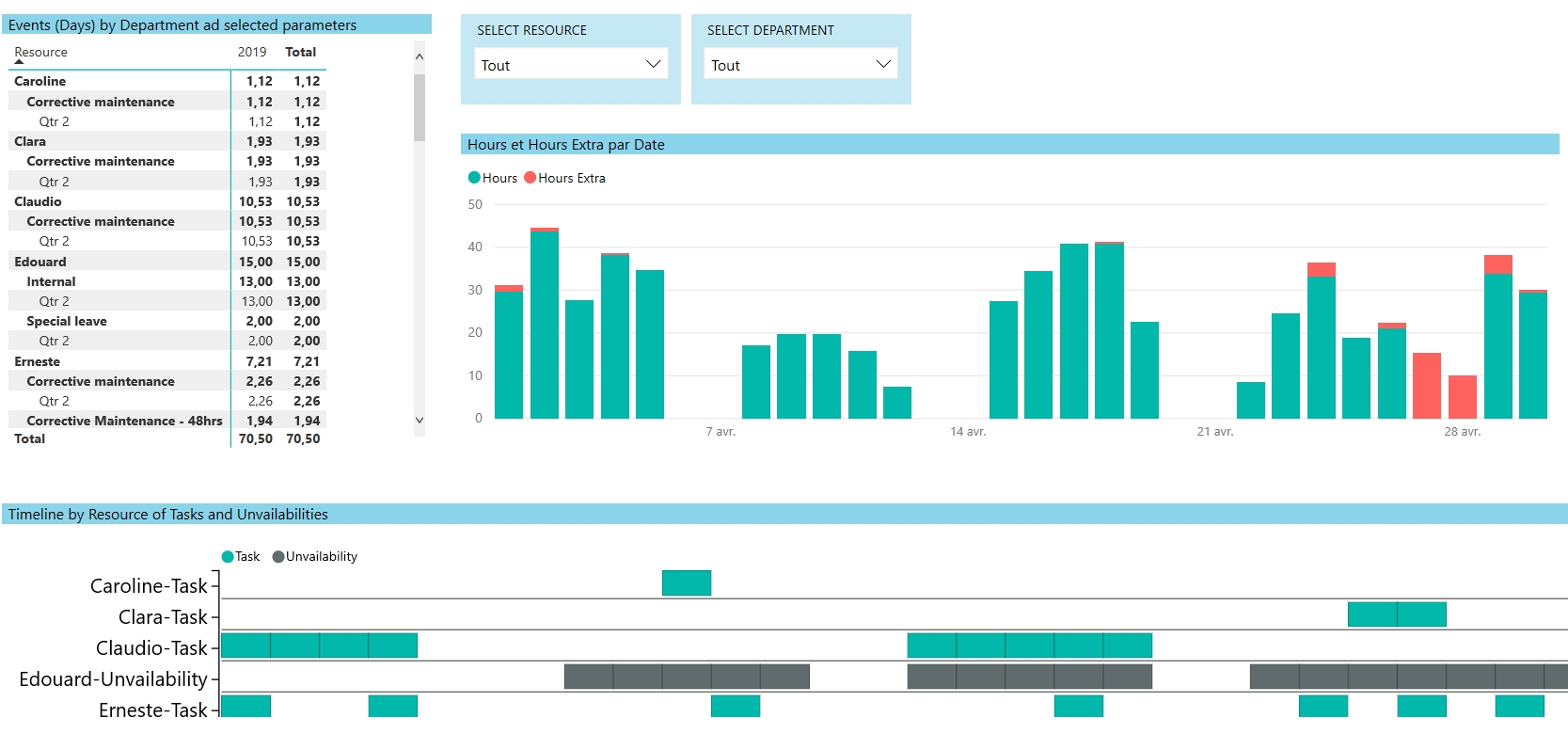 Interest: Analyse performances and make fast relevant decisions
Graph with Sum of tasks by type by Customer
SUM of Time for Task type
Workload by department
Contact

Need to be advised, to get a quote or to know more about possible integrations with the tools you use in your company?
We are at your disposal for all your questions.